Arghhhhh….Stress!!! How To Handle?
Stress can be defined as the body's reaction to any change that requires an adjustment or response. The body reacts to these changes with physical, mental, and emotional responses. Stress is a normal part of life. You can experience stress from your environment, your body, and your thoughts. Even positive life changes such as a promotion, a mortgage, or the birth of a child produce stress.(1)
The human body is designed to experience stress and react to it. Stress can be positive, keeping us alert, motivated, and ready to avoid danger. Stress becomes negative when a person faces continuous challenges without relief or relaxation between stressors. As a result, the person becomes overworked, and stress-related tension builds. The body's autonomic nervous system has a built-in stress response that causes physiological changes to allow the body to combat stressful situations. This stress response, also known as the "fight or flight response", is activated in case of an emergency. However, this response can become chronically activated during prolonged periods of stress. Prolonged activation of the stress response causes wear and tear on the body – both physical and emotional.(2)
Stress that continues without relief can lead to a condition called distress – a negative stress reaction. Distress can disturb the body's internal balance or equilibrium, leading to physical symptoms such as headaches, an upset stomach, elevated blood pressure, chest pain, sexual dysfunction, and problems sleeping. Emotional problems can also result from distress. These problems include depression, panic attacks, or other forms of anxiety and worry. Research suggests that stress also can bring on or worsen certain symptoms or diseases. Stress is linked to 6 of the leading causes of death: heart disease, cancer, lung ailments, accidents, cirrhosis of the liver, and suicide.(3)
Stress also becomes harmful when people engage in the compulsive use of substances or behaviors to try to relieve their stress. These substances or behaviors include food, alcohol, tobacco, drugs, gambling, sex, shopping, and the Internet. Rather than relieving the stress and returning the body to a relaxed state, these substances and compulsive behaviors tend to keep the body in a stressed state and cause more problems. The distressed person becomes trapped in a vicious circle.
It may seem that there's nothing you can do about your stress level. The bills aren't going to stop coming, there will be never be more hours in the day for all you errands, and your career or family responsibility will always be demanding. But you have a lot more control that you might think. In fact, managing stress is all about taking charge of your thoughts, your emotion, your schedule, your environment, and the way you deal with problems. The ultimate goal is a balanced life, with time for work, relationship, relaxation, and fun plus the resilience to hold up under pressure and meet challenges head on. (4)
Stress management starts with identifying the sources of stress in your life. This isn't as easy as it sounds. Your true sources of stress aren't always obvious, and it's all too easy to overlook your own stress-inducing thoughts, feelings and behaviours. Sure, you may know that you're constantly worried about work deadlines. But maybe it's your procrastination, rather that the actual job demands, that leads to deadline stress.
To identify your true sources of stress, look closely at your habits, attitude, and excuses:
Do you explain away stress as temporary ("I just have a million things going on right now") even though you can't remember the last time you took a breather?

Do you define stress as an integral part of your work or home life ("Things are always crazy around here") or as a part of your personality ("I have a lot of nervous energy, that's all")

Do you blame your stress on other people or outside events, or view it as entirely normal and unexceptional?
Until you accept responsibility for the role you play in creating or maintaining it, your stress level will remain outside your control.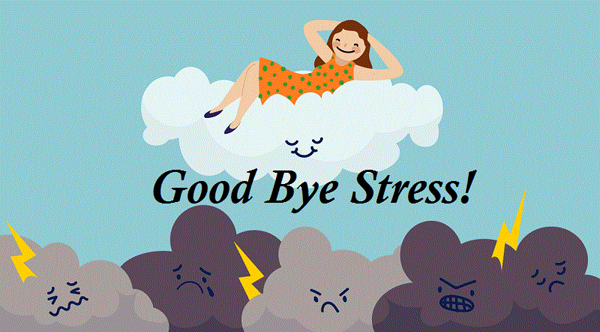 Stress management strategy #1: Avoid unnecessary stress
Not all stress can be avoided, and it's not healthy to avoid a situation that needs to be addressed. You may be surprised, however, by the number of stressors in your life that you can eliminate.
Learn how to say "no" – Know your limits and stick to them.

Avoid people who stress you out.

Take control of your environment – If the evening news makes you anxious, turn the TV off. If traffic's got you tense, take a longer but less-traveled route.

Avoid hot-button topics – If you get upset over religion or politics, cross them off your conversation list.

Pare down your to-do list – Analyze your schedule, responsibilities, and daily tasks
Stress management strategy #2: Alter the situation
If you can't avoid a stressful situation, try to alter it. Figure out what you can do to change things so the problem doesn't present itself in the future. Often, this involves changing the way you communicate and operate in your daily life.
Express your feelings instead of bottling them up. If something or someone is bothering you, communicate your concerns in an open and respectful way.

Be willing to compromise. When you ask someone to change their behavior, be willing to do the same.

Be more assertive. Don't take a backseat in your own life. Deal with problems head on, doing your best to anticipate and prevent them

Manage your time better. Poor time management can cause a lot of stress
Stress management strategy #3: Adapt to the stressor
If you can't change the stressor, change yourself. You can adapt to stressful situations and regain your sense of control by changing your expectations and attitude.
Reframe problems. Try to view stressful situations from a more positive perspective

Look at the big picture. Take perspective of the stressful situation.

Adjust your standards. Perfectionism is a major source of avoidable stress.

Focus on the positive. When stress is getting you down, take a moment to reflect on all the things you appreciate in your life, including your own positive qualities and gifts.
Stress management strategy #4: Accept the things you can't change
Some sources of stress are unavoidable. You can't prevent or change stressors such as the death of a loved one, a serious illness, or a national recession. In such cases, the best way to cope with stress is to accept things as they are. Acceptance may be difficult, but in the long run, it's easier than railing against a situation you can't change.
Don't try to control the uncontrollable. Many things in life are beyond our control— particularly the behavior of other people.

Look for the upside. As the saying goes, "What doesn't kill us makes us stronger." When facing major challenges, try to look at them as opportunities for personal growth.

Share your feelings. Talk to a trusted friend or make an appointment with a therapist.

Learn to forgive. Accept the fact that we live in an imperfect world and that people make mistakes
Stress management strategy #5: Make time for fun and relaxation
Beyond a take-charge approach and a positive attitude, you can reduce stress in your life by nurturing yourself. If you regularly make time for fun and relaxation, you'll be in a better place to handle life's stressors when they inevitably come.
Healthy ways to relax and recharge
Go for a walk.

Spend time in nature.

Call a good friend.

Sweat out tension with a good workout.

Write in your journal.

Take a long bath.

Light scented candles

Savour a warm cup of coffee or tea.

Play with a pet.

Work in your garden.

Get a massage.

Curl up with a good book.

Listen to music.

Watch a comedy
Don't get so caught up in the hustle and bustle of life that you forget to take care of your own needs. Nurturing yourself is a necessity, not a luxury.
Set aside relaxation time. Include rest and relaxation in your daily schedule.

Connect with others. Spend time with positive people who enhance your life.

Do something you enjoy every day. Make time for leisure activities that bring you joy, whether it be stargazing, playing the piano, or working on your bike.

Keep your sense of humor. This includes the ability to laugh at yourself
Stress management strategy #6: Adopt a healthy lifestyle
You can increase your resistance to stress by strengthening your physical health.
Exercise regularly. Physical activity plays a key role in reducing and preventing the effects of stress

Eat a healthy diet. Well-nourished bodies are better prepared to cope with stress, so be mindful of what you eat.

Reduce caffeine and sugar. The temporary "highs" caffeine and sugar provide often end in with a crash in mood and energy.

Avoid alcohol, cigarettes, and drugs. Self-medicating with alcohol or drugs may provide an easy escape from stress, but the relief is only temporary.

Get enough sleep. Adequate sleep fuels your mind, as well as your body.
Reference